Amari Raaya Maldives
信息速覽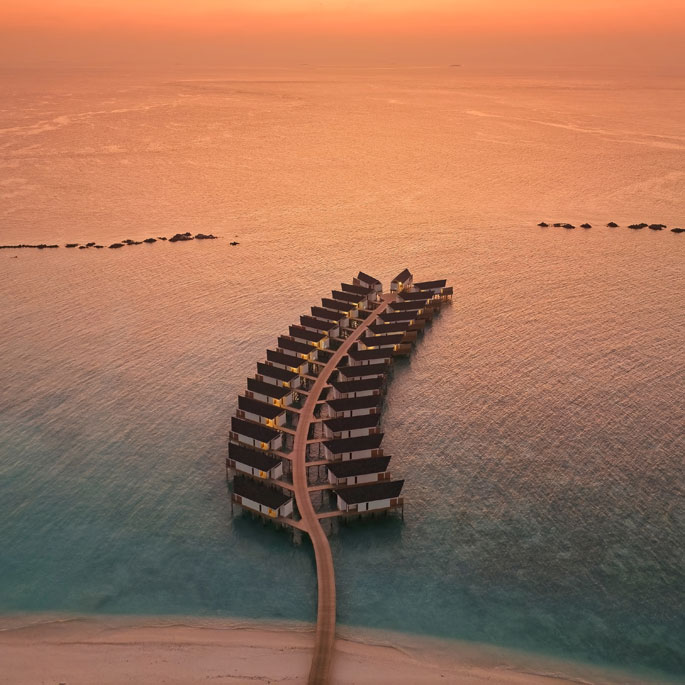 所在區域
Found nestled along a line of large islands on the east side of the Raa Atoll, the 5-star Amari Raaya Maldives is a glowing paradise island resort that's under an hour away from the nation's main airports. Choose between domestic transfer or seaplane arrival and experience the Maldives the way it should be from day one.

Drones: The use of drones is not allowed
附近的景點
Vandhoo Thila (diving and snorkeling site) 9 公里 10 分鐘
Kottefaru Out (diving and snorkeling site) 14 公里 15 分鐘
Hanifaru Bay (whale shark site) 85 公里 90 分鐘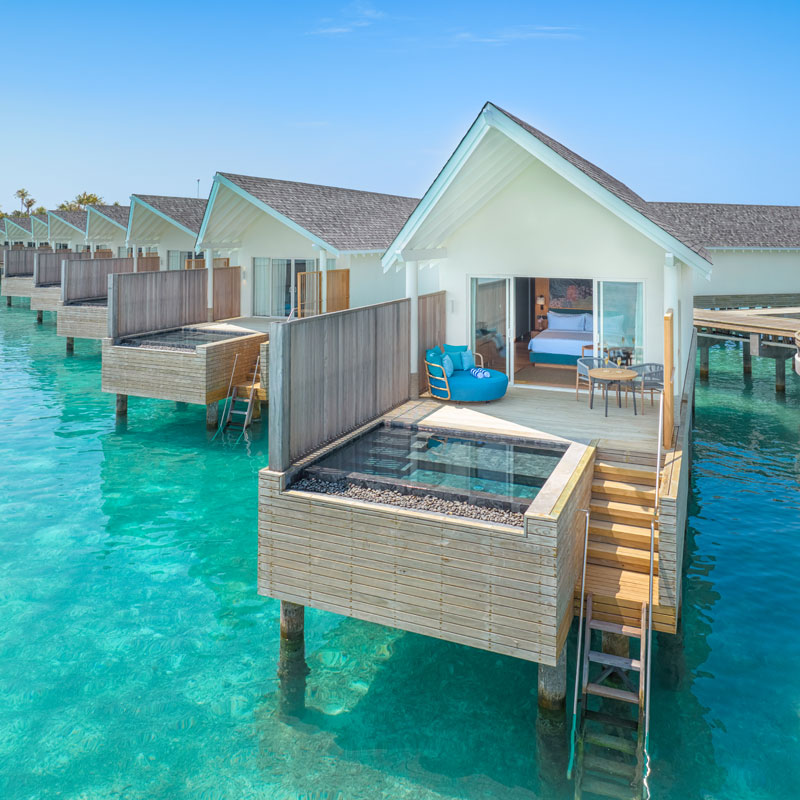 住宿
Whether you opt for a villa on the beach or one floating over the shimmering Indian Ocean, every room at our Maldives island resort offers unobscured views of the magnificent Raa Atoll waters and boasts the best in contemporary Maldivian architecture, Thai hospitality and a luxurious castaway feel.
海灘別墅
Beach Villa 约61平方米 適合2位成人入住
Beach Pool Villa 约73平方米 適合2位成人和1位兒童或3位成人入住 (第3位成人需加床並額外收費)
Family Beach Villa 约137平方米 適合 2 位成人加 2 名兒童,或 4 位成人入住
水上別墅
Ocean Villa 约57平方米 適合2位成人入住
Ocean Pool Villa 约60平方米 適合2位成人和1位兒童或3位成人入住 (第3位成人需加床並額外收費)
Sunset Ocean Villa 约57平方米 適合 2 位成人加 1 名兒童入住,或 2 位成人入住
Sunset Ocean Pool Villa 约60平方米 適合2位成人和1位兒童或3位成人入住 (第3位成人需加床並額外收費)
Deluxe Ocean Pool Villa 约70平方米 適合2位成人和1位兒童或3位成人入住 (第3位成人需加床並額外收費)
Amari Presidential Villa 约1228平方米 適合 4 位成人加 2 名兒童,或 6 位成人入住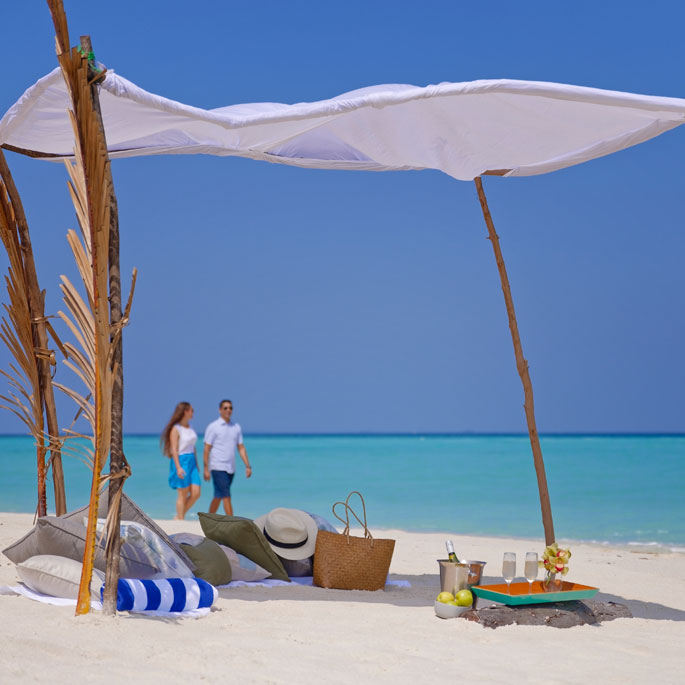 餐飲
Feel a burst of flavour at any one of our eight food and beverage outlets – each one finding the perfect balance between Thai, Asian, Maldivian and Western flavours, ingredients, techniques and experiences.

Pair your meal with a cocktail or creative drink concoction that welcomes sundown from atop a canopy of palms or even disappear with a loved one to a private corner of the beach and enjoy a romantic dinner for two with sand between your toes.
阿瑪雅美食薈:
The Amari classic serves vibrant Asian and International fare
Ampers&nd:
A place for Pan Asian culinary adventure and romantic drinks
SOAQ:
Our poolside snack bar adds some colour to your day
Pregolino:
Casual yet sophisticated Italian dining
Seb's Shack:
Your go-to island snack shack packed with tasty bites and ice-cold beverages
The Village Café:
Fresh pastries, coffee and savoury snacks to fuel your next adventure
Fulhi Bus:
(Opening soon)
Touring the island three times a day with ice cream, fresh juice and cocktails for all
Sports Bar:
(Opening soon)
A perfect place to refuel after an afternoon of fun, fitness and island recreation
Destination Dining:
Bespoke island or ocean dining, from treetop dinners to open ocean soirees
In-Villa Dining: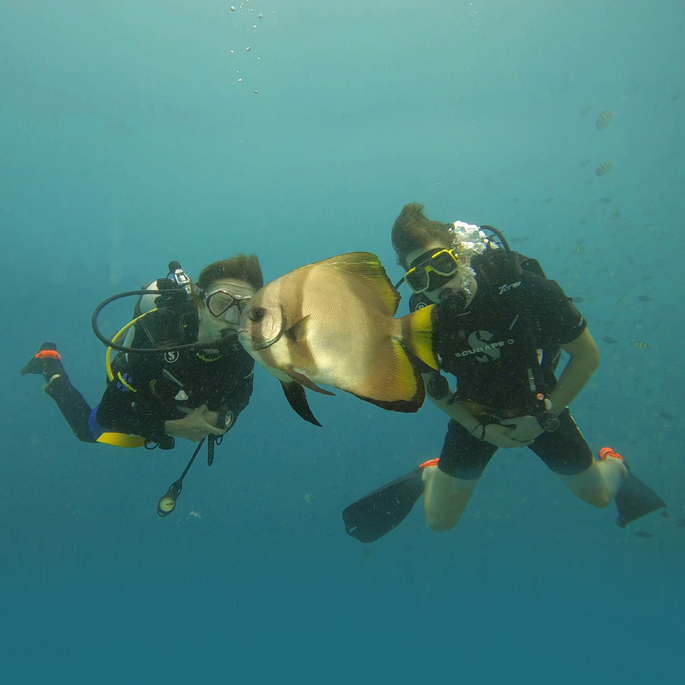 娛樂
Dive under the water, surf atop it or head inland and play a round of mini golf or paddle tennis. And our scuba diving courses promise the best in underwater safaris this side of the Atoll.
Diving and water sports centre
Outdoor activities zone
FIT Centre & Yoga Pavilion
Watch Towers
Mangrove Discovery Walkway
Artist Zone
Chef's Garden
maai spa
兒童俱樂部
The Village
Dining Experiences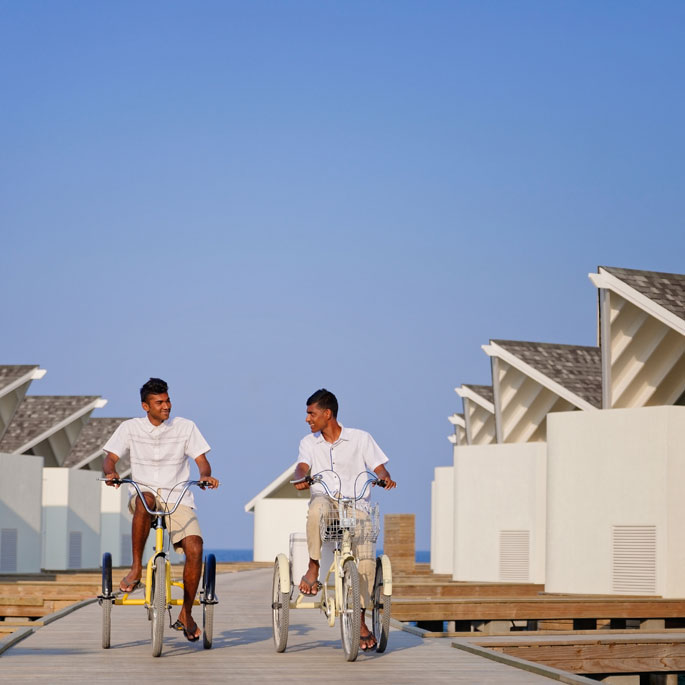 服務
From all-day room service that keeps you satisfied to tailored excursions both on and off island, there's no limit to what we can offer. And for families, services like baby care, hairdressing, laundry keep everyone happy.
上島交通(需提前預訂,額外收費)
嬰兒床(需提前預訂)
兒童看護服務(需提前預訂,並額外收費)
24小時前台服務
多語言禮賓服務
貨幣兌換
候召醫生 (可應要求安排)
急救箱
洗衣和乾洗服務 (額外收費)
免費WiFi覆蓋整個海島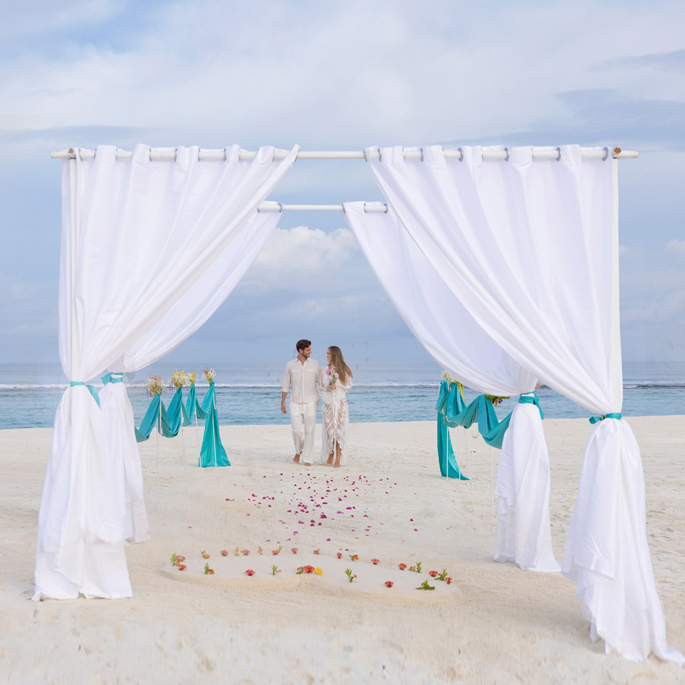 Special Occasions
Host a special event, get married on the sand or commandeer the whole island for something unforgettable. We'll take your wildest dreams, add some Maldivian sun and turn any event or wedding plan into a bright and memorable reality.
Amari Raaya Maldives
P.O. Box 2053, Kudakurathu Island, Raa Atoll, Republic of Maldives
聯系我們
電話: +960 400 1400
洽詢
Hotel policies
Bookings: Domestic transfers must be reserved at least 3 days prior to the day of arrival.
Check-in & Check-Out: Valid passport is required at check-in.
Children: To apply correct charges, the date of birth of any traveling child is required during the reservation process.
了解更多
娛樂
上島交通(需提前預訂,額外收費)
嬰兒床(需提前預訂)
兒童看護服務(需提前預訂,並額外收費)
信用卡
在辦理入住手續時,可能會要求您出示與您預訂時使用的信用卡相匹配的實體信用卡。
visa master americanexpress